Moto Photo Class
Lesson 1: What to buy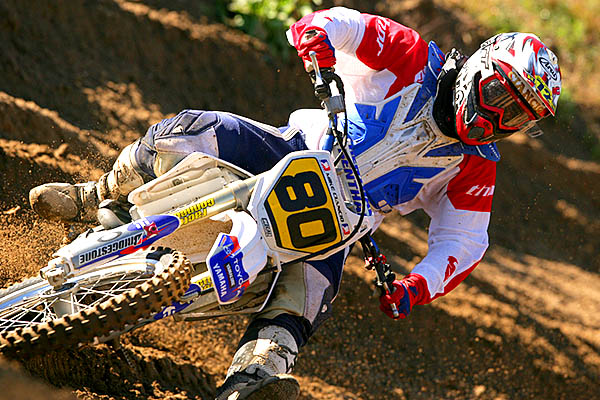 By Paul Buckley
When ever I'm shooting close to where spectators are hanging out I always get lots of photo questions. "How much did that stuff cost?" "How far can that lens see?" "Ever get run over?" "My photos aren't as clear as yours, got any tips?" So I've created this section of Buckley Photos dot Com where I'll try to answer some of those questions and to pass on some tips I've picked up over the years. The answers to those first questions are, a lot, all the way to the moon, twice and read on.
What I like and why
Trying to capture flying motocrossers with a little point and shoot digital camera that has a shutter lag of a few seconds is next to impossible, it can be done it just takes a lot of practice so you get used to predicting where the rider will be when the shutter finally releases. For those of you reading this who are ready to move up to the next level in motocross photography I've put together a buying guide broken down by price range. You'll notice that it's all Canon equipment, well that's what I use and that's all I've used since I started in 1975. I think it's the best and many other pro MX shooters agree with me. The next time you're at a National or Supercross take a look at what they're carrying, I bet it's Canon. Another reason I recommend Canon is that the lenses you buy for your Rebel will still fit if you upgrade to an EOS 1Ds Mark III, the same is true for their flashes and most of the other accessories. Another thing you'll no doubt notice is that I really like B&H Photo and that's true I really do like that store even though I've never shopped there in person. I started buying from them way before the internet, back in the day when you had to call a real live person to place an order. You can still call them to order but they have one of the best online stores that I've ever used. The products are easy to find, they have tons of equipment in stock, you name a payment option and they offer it. You might be able to find a lower price at another online merchant but be careful, there are lots of low ballers out there who will offer cameras at incredible prices but they'll pull out some of the accessories that are supposed to come in the box and will try to sell them separately. B&H has never done that in all the years I've shopped there.
Under 500.

Right now it's just not happening. You might be able to find a body and lens "kit" for under 500. but the lens that you get will likely be an off brand piece of glass that won't be sharp or focus fast enough to follow a 50cc beginner. You really have to spend a little more if you want to bring home some quality MX images.
Under 750.
Here's where you can get started, check out the Canon Rebel XTI. It's a 10 megapixel slr that has Canon's Predictive AI Servo AF (AI stands for artificial intelligence and AI servo focusing will actually calculate how fast your subject is coming towards or going away from the camera and then will adjust the lens accordingly) at the time I'm writing this it's going for 469. at B&H. Combine that with the Canon EF 75-300mm f/4.0-5.6 III USM zoom lens for 184.00 and you'll have enough left over from your 750. budget for a Lexar 4GB Platinum II 80x CompactFlash Card for 27.95 and a Lexar Professional UDMA Dual-Slot USB Reader for 39.95
Under 1500.
Now we're over a grand but when you spend the extra cash you'll get higher performance from the camera and lens. For this price point I'd go with the Canon EOS 40D 799.95 it's also a 10 megapixel camera with AI Servo autofocus but the technology that controls it all has been stepped up from the Rebel. All these cameras have a bunch of different exposure modes and the 40D comes with Program AE, Shutter-priority AE, Aperture-priority AE, Auto Depth-of-field AE, Full auto, Programmed image control modes and Manual. In the next installment I'll talk about camera setup and what all those modes do. A good lens to with your 40D would be the Canon EF 70-200mm f/4.0L USM 569.00. L is the important letter there as it indicates Canon's top of the line lenses. The glass is really nice and that USM designation means that it's got an ultrasonic motor driving the focus. You'll still be able to add the Lexar 4GB Platinum II 80x CompactFlash Card for 27.95 and a Lexar Professional UDMA Dual-Slot USB Reader for 39.95 and stay under 1500.
5,000. plus
How's this limit on your credit card? For that much money you get pro quality stuff all you'll need after that will be a season credential and a photo deal with Fox Racing. A great pro body is the Canon EOS 1d Mark III, it's yet another 10 megapixel body with AI servo AF so how do they justify a 3,700+ price tag? Pick one up some time, you can really feel the difference. The top line Canon EOS 1's are made to take all the abuse a pro MX shooter can throw at them, mine have been covered in snow at Winter X, soaked at Anaheim and covered by dust, roost and mud more times then I can remember. Yes they still work great.
Start building your pro package with the Canon EOS 1D Mark III for 3724.95 not only do you get a rock solid body but it's got the ability to fire off 10 frames per second and it's got an AF system that will keep up with the fastest riders! If you've got clients who run two page spread ads all the time and their art director is always asking for larger files you're going to need the 1Ds Mark III but at 6559.95 you need an awful lot of those clients running an awful lot of those double trucks.
Lenses
Next you'll need some lenses, we'll start with the small ones and work our way up. I like the EF 24-70mm f/2.8L USM Autofocus Lens for 1039.00, it's got a nice zoom range, a fast f2.8 aperture and is built tough like the 1d Mark III and yes since it has Canon's L designation it'll be sharp as a tack.
I could go to a race with that lens and a 300mm and be pretty happy, sure that I'd have 90% of the shots covered. The 300 that I use is the Canon EF 300mm f/2.8L IS Image Stabilizer USM for 4100.00 (Okay maybe we should make this the 10,000. plus category) it's the big white lens that almost every Canon shooting pro has with him at every race. I personally don't use the Image Stabilization feature that much but along with the IS Canon built in faster auto focusing so it was worth trading in my older 300mm 2.8. If you're not ready to spring for the 300 2.8 I'd recommend a EF 300mm f/4.0L IS Image Stabilizer USM 1059.00, it's not quite as fast as the 2.8 so the auto focus will be a tad slower mainly because some of the cross type AF sensors need an aperture of 2.8 or better letting in enough light for them to do their job, but it will save you over 3 grand and that's almost enough for a second 1D Mark III body. Do you really need two bodies? If you're an amateur shooting for fun of course not but if you're trying to feed the kids with a photography career then positively yes you do!
Flashes
A flash is a must have in this pro package. Don't skimp here, go for the latest Canon has to offer, the 580EX II Speedlite for 370.00. It's got a lot of power in a small shoe mounted package just what you need to blast through those shadows at noon on a bright sunny July day or to reach all the way across a stadium floor for that shot of Bubba whipping it over the finish line.
Don't forget the extra batteries, compact flash cards, external flash battery, 1.4 extender, camera bag, laptop, software etc...